---
Search for events by association:
---
Organisational Creativity Summit, BC 2019
June 21, 2019 @ 8:30 am

-

5:00 pm
Organisational Creativity Summit for HR, L&D and Corporate Innovators
Are you tired of the status quo?
Is it time to bring creative distruption to your organisation?
Grace Hopper, a pioneering computer scientist once said, "The most dangerous phrase in the language is, 'We've always done it this way."

Creativity at its core is about disrupting traditional ways of operating.
We have so many entrenched behaviours that keep us stuck and prevent us from seeing new opportunities.
Anyone can do things the way they've always been done. It takes a completely different approach to look at things from new perspectives and disrupt old patterns to do and understand new things and unleash fresh insights.
That's creative disruption.
Join leading organisational creativity practitioners in Metro Vancouver on June 21 to learn how to transform old patterns, bring creative disruption into your organisation, and unleash new ideas.
We'll be exploring some fascinating questions in our time together:
Mark Busse – What happens when you intentionally bring lateral thinking and fresh stimuli into your organization?
Catherine Sherlock – How can you apply mindfulness to make it your superpower and transform the way you operate?
David Newman – What do you mean, be creative? How will that transform my organisation?
Kai Chu – How can design thinking reveal opportunities for new ways of thinking or being?
Jennifer Curleigh – How can leaders use storytelling to shift mindsets?
Paul Lopushinsky – How can creating a playful framework improve productivity and profits?
Alina Smolyansky – How can drawing help you access the subconscious and improve team functioning?
Kirsten Anderson – How can "thinking with our hands" facilitate creativity and strategic planning?
Expect to experience uncertainty and discomfort, coupled with laughter, learning and creativity.
You will leave with new insights and practical tools you can implement immediately. You'll learn about unleashing creativity capacity in you and your team and increasing engagement – along with your bottom line.
This is the first, a prototype, for an ongoing series of events for professionals in people and culture, learning and development, and corporate innovation. It will be interactive, hands-on, and thought provoking.
Presenter profiles can be found at creatific.org/events/.
Email addresses collected will only be shared with Summit presenters. If you do not wish to have your email shared with the presenters, please email: david.newman@creatific.org.
FAQs
What are my transportation/parking options for getting to and from the event?
Skytrain: 100 Braid Street Studios is a short 5-minute walk from Braid Skytrain Station, beside Urban Academy and across the road from the parking lot.
Buses: Braid Sky Train station is a major interchange for buses coming from Coquitlam and New Westminster.
Parking: if you are coming by car, we have parking available behind the building (enter off Rousseau St) as well as a few spaces in the front. The studios are close to Highway 1 (Brunette Ave exit towards New Westminster).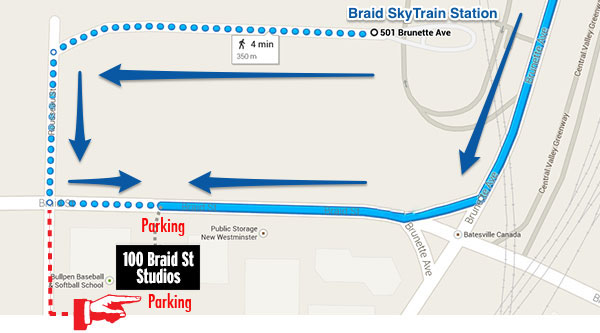 What are the lunch options?
We will confirm details on the lunch provision on our website shortly.
How can I contact the organizer with any questions?
Email: david.newman@creatific.org
What's the refund policy?
Refund less fees upto 7 days before the event.
Do I have to bring my printed ticket to the event?
No, we are happy if you don't print unnecessary paper and just show us on your electronic device.
However, you may need something printed at your end for corporate reimbursement.
Is my registration fee or ticket transferrable?
Sure… we would love for you to attend, but if something happens last minute, feel free to pass your ticket to someone else.
Will there be tickets sold at the door?
Maybe, if we haven't sold out. If available, they will be very limited in number, however, as we will be setting up tables in the venue based on the number of tickets sold prior to the event. And the price at the door will be $120 without lunch included (cash only). We strongly recommend you buy your ticket beforehand.
Is it ok if the name on my ticket or registration doesn't match the person who attends?
Not a problem. Just let us know when you come in so we don't get confused.
Can I come for part of the day at a pro-rated cost?
You can certainly come for just part of the day, but unfortunately we are unable to pro-rata the cost. We will have an opening presentation in the morning outlining different dimensions of creativity in an organisation, followed by a number of interactive workshops. Contact us close to the date for specific details on the schedule of specific workshops.
I can't make it to this Summit. Will there be another one later?
We hope so. If this goes well, we plan to have another one close to the end of the year and bring in some different workshop presenters. But, the ticket price is likely to go up substantially. As this is a prototype and our first event, we have intentionally underpriced the event. You will get amazing value from this event, and want you to spread the word.