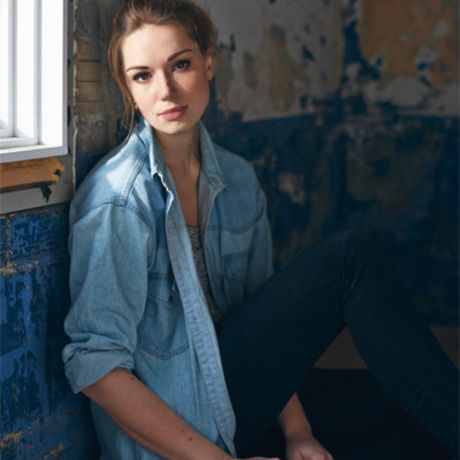 Ola Volo (BFA, Emily Carr University) is a Canadian illustrator from Kazakhstan with a distinctive style drawn from history, multiculturalism and folklore. Her intricate works bring animals, people, architecture and nature together to articulate diverse stories rich with symbolism and elaborate forms. Ola creates winding narratives that lovingly acknowledge the subtleties of human nature while celebrating the little surprises of everyday life. Her work is widely recognized for its inventiveness and imaginative gesture; every character is full of spirited personality and inhabits a dynamic environment. Her work also lends itself often to the public realm with several of her murals helping to shape and beautify outdoor spaces in Vancouver. As well as creating commissions for a wide range of international clients including HootSuite, Vancouver Opera, LuluLemon and ENI, Volo also finds time to do her own gallery artwork and book projects.

Where do you find your best creative inspiration? I define creativity as an experience in transformation. Its about making something new with imagination, skills and a bit of curiosity. That risk of transforming an idea into a bigger concept that can potentially inspire further thinking for yourself and others I think is courageous and the core of creativity for me. When it comes to my work, I am inspired by my past stories and old folklore art and let that be the root of ideas that transforms a narrative into a beautiful visual piece.

What's the one creative advice or tip you wish you'd known as a young person?

If i had to give one creative advice that I wish i'd heard earlier in life is that there really isn't a wrong direction to take in the creative field as long as you are completely nuts about exploring your passion further and willing to spend a lot of time getting better at it. I used fear that it would be unrealistic to be an artist as profession but I learned an even bigger fear is being unhappy in a job you're not passionate about and dedicating so much of your time to it.

Who would you like to hear speak at CreativeMornings? Very tough question as you guys always bring such inspirational and unique people to the stage. But if I could see anyone do another talk ,I'd love to hear Carson Ting speak again, one of my favourite people in Vancouver who put on one of the best talks!

What was the best advice you were ever given? I had a chance to travel to NYC right after graduation and meet with illustrators who have a huge influence on me. One thing that stood out the most was their incredible work ethic, professionalism and being very down to earth. I think as an artist, the biggest advice I've received is to be prolific, motivated and not to forget to say thank you (a lot) I try to apply those three key advices to my work everyday.

What has been one of your biggest Aha! moments in life? When i was studying graphic design in Holland, mid way through i had a total identity crisis, both personally and creatively. I couldn't connect to the work i was producing and I felt like i was loosing my 'creative voice'. It wasn't until I started to explore deeper into what cultures and stories make and shape me, which helped create a stylistic language that i could be expressive in. I decided to dedicate huge chunk of my time diving deeper into illustration and creating narrative work that can be understood regardless of a language barrier. The more work i produced, the bigger my illustration dictionary became. I realized early on that in order to grow with the work, the stories that are told have to be meaningful and at times challenging. This is also a reason I love working with clients as the subject matter can be very different from project to project and thus expands my own horizons and while i resolve a visual challenge. Anyway, my aha moment in a nut shell is the more work you do, the more work you'll have and the better you will understand your future work.