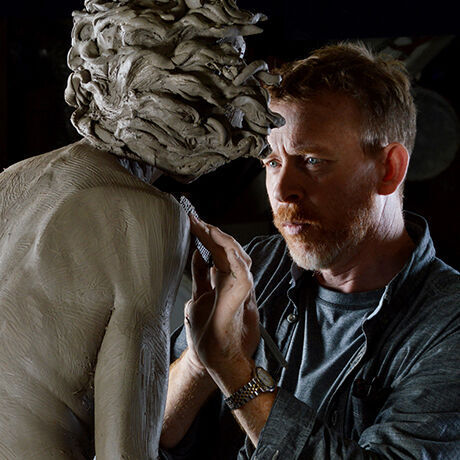 February's theme is 'MONUMENTAL' so we couldn't think of a better speaker than award-winning Canadian sculptor David Robinson, whose work is massive and meaningful in both scale and importance.
"It seems to me that my sculptures, before they are anything else, are manifestations of fitful waking dreams; narratives whole and smashed, images and ideas all distilled through the passage of time and the particular resistance of matter."
Born in Toronto, David Robinson entered the Fine Arts stream in high school, specializing in sculpture, and later graduated from the Sculpture Program at the Ontario College of Art with honours. Robinson's sculptures—which have been exhibited in group and solo shows nationally and internationally—incorporate a variety of materials, ranging from bronze, steel and silver to concrete, mirror and paper. While his oeuvre is the figure, Robinson often adds psychological and mythological twists to his subjects by situating them in environments that speak to the inherent tensions of human life. His work has been commissioned by Polygon Homes, the Four Seasons Hotel Resort in Whistler, and Century Group (amongst others), and can additionally be found in many private and corporate collections.
How do you define creativity and apply it in your life and career? "Creativity" I take to mean the habit or practise of laying one's time and attention upon the altar of chaos and the unknown. It is coaxing makeshift meaning from the void—the fractal from the fragment. It is striving intent, as guided by stumbling. Or so I've been thinking lately… I'm not averse to the idea of "obedience to the muse" either. Like a fit of sudden laughter in a dream—light tumbles in profuse and unbegotten from somewhere outside the hermetic skull. As for the career application of such circumspectral notions, all I can say is keep the door ajar and a place at the table for them.
Where do you find your best creative inspiration or energy? Depending on which species of science-fanatic you ask, the proverbial perpetual-motion machine is either a practical-impossibility, or an endlessly alluring puzzle. The well oiled art studio is a machine of similar dichotomy: When its anachronistic gears are not grinding in entropy, its capacity for sparking and forging new form is invigorating.
What's one piece of creative advice or a tip you wish you'd known as a young person? I wish I'd known that criticisms of your art are a source of heat not light; They won't help you see much, but they should stoke your will to work.
Who (living or dead) would you most enjoy hearing speak at CreativeMornings? Having been over-churched as a child, I have complicated feelings about morning meetings of like-minded individuals… But I think a mind like that of Carl Jung would keep such a room in rapt attention, as he travelled the myriad neural pathways in question leaving no stone unturned.
What practises, rituals, or habits contribute to your creative work? It's an odd one, but the strategic pursuit of unsolicited or otherwise nascent commission opportunities has proved to be a good recurring spur to creative output over the years. While preemptively solving aesthetic problems that people do not yet know they have can certainly clutter up the studio with rejected designs and maquettes, it has also lead to some of my best work.
What did you learn from your most memorable creative failure? From in fact a great many failures along the way I have seen that art, both the enterprise and the vocation, has a gravitas that attracts countless confusing, schilling, and ulterior motives into its orbit. From within this swirling detritus I hope I have learned to return to Rilke's simple imperative: "Discover the motive that bids you…"
What are you reading these days? The Way of Chuang Tzu bu Thomas Merton
Who has been the biggest influence on your life? What lessons did that person teach you? Having conscripted my friend Joe Caveno into an unwilling mentorship thirty years ago, I have studied under him the practise of the solitary studio-artist's work ethic under the aegis of his capacious curiosity, fellowship, artisanal skill, wit, red wine and good humour.