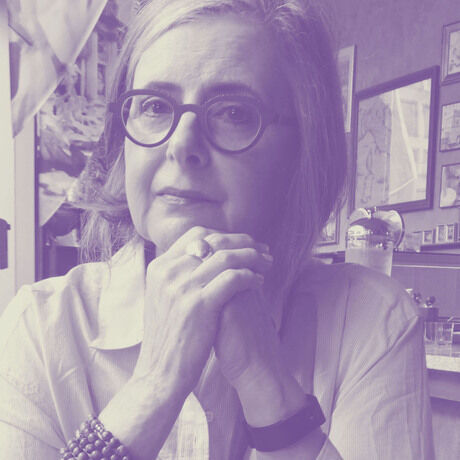 For October's theme 'design' we are pleased to present design researcher, strategist, facilitator, and educator Casey Hrynkow.For 35 years, Casey co-owned and ran one of Canada's most respected design firms. As her own work matured and changed over time she began to use design research and design thinking as a primary skill. Today she, along with other valued colleagues, facilitates conversations about wicked problems, to tap into the wisdom of regular folks and make them champions of their ideas. She has worked extensively with First Nations in British Columbia, as well as cities and universities across Western Canada.

How do you define creativity and apply it in your life and career? Oh! Big question! Creativity is a gift we all have that has to be nurtured and fostered from the time we are children. It is the Swiss Army knife for problem solving in every field of study from math to science to sculpture and cooking…I have taught "thinking creatively" to children and adults to help them solve problems. Creativity is the ability to see problems from every angle, every facet, so that we can approach them in new ways. Many adults have muted their creativity and I help them "wake it up", so that they surprise themselves with the ideas they can generate.

Where do you find your best creative inspiration or energy? I am most creative when I'm not trying to be creative. Out for walks, in the shower, at the grocery store….Letting my mind NOT think about a problem allows my creativity to bring a new perspective to it. I remember as a student, staring at design magazines. They did inspire me, but more for style than for substance. It's that substance that gets me jazzed up. A couple of things. In the second question, the last sentence should read "For a tool, I work things out through writing before I sketch or talk to anyone.

What's one piece of creative advice or a tip you wish you'd known as a young person? I don't know…I don't think you can "jump the queue" to get to somewhere that only living will teach you about. So, perhaps patience is the best advice I can give. Keep your eyes and ears open. Touch things. Feel the wind on your face. Eat mindfully. Life will teach you the way, if you let it.

Who (living or dead) would you most enjoy hearing speak at CreativeMornings? I think I'd love to hear Michael Mabry. He came to Vancouver many years ago and I loved his rambling thinking on the minutia of a day and how it inspires his design work.

What's your one guilty creative indulgence? Conferences. I love them. Not just creative conferences, but conferences on the issues I care about. You get hundreds (sometimes thousands) of people together to think about, talk about, even dance and sing about things and you come away filled with so much creative energy.

What are you reading these days? I just read Isabel Wilkerson's Caste: The Origins of Our Discontents, and I can't recommend it highly enough. It explains so much about the way we see each other and why, and I think everyone should read it.

What fact about you would surprise people? I played ringette (on ice) for four years as an adult. That could also qualify for "What's the craziest thing you ever did"!

What myths about creativity would you like to set straight? UGH! People think creativity is "airy fairy" indulgent fluff. In fact, nothing we rely on today would exist without creativity.

If you could do anything now, what would you do? I've always said I'd like to come back as an industrial designer. In point of fact, it would probably have led me to the very same place I am today, but I would love to be able to make smart, beautiful three-dimensional things!